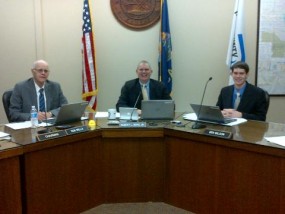 Riley County commissioners discussed what it should do with an extra $300,000 in the county's general fund Thursday morning.
During Monday's meeting county treasurer Shilo Heger reported to commissioners that sales tax revenue was $295,995.23 above projections.
Stronger than expected auto sales have pushed sales tax revenue above more conservative projections.
One option commissioners discussed Thursday is to restore some 2016 appropriations to their 2015 levels, since many of those appropriations were cut across the board during last year's budget sessions.
Commissioner Robert Boyd outlined Pawnee Mental Health Services, Big Lakes Development Services, Riley County Extension and the Riley County Council on Aging as the places he'd like to restore back to their previous funding.
Commissioners Ron Wells and chairman Ben Wilson weren't necessarily opposed to the idea, but both felt it was better to hold on to the extra funds with the state-imposed property tax lid looming.
"I think we can help these folks out," Boyd said.
Wilson wasn't so sure.
"We typically try to set those estimates low on purpose so we have extra carry-over, especially to put towards the (Capital Improvement Projects)," Wilson said. "So in my mind it's not necessarily extra revenue — especially with the tax lid coming up."
Wells said he had mixed emotions.
"I don't know," Wells said. "I'd like to get them all back to what they asked for, but the problem is, I'm curious to see how they're faring, because they're going to have to realize we don't know what's going to happen if the tax lid takes effect July 1.
"I'd like to restore, but I'd hate to pick and choose. Right now I think we're just lucky to have a little extra money."
Boyd didn't disagree with either Wells' or Wilson's comments, but clarified he was looking to spend a slice of the extra revenue and not the whole pie.
It would take $155,988 of the extra sales tax revenue to fully restore all appropriations to where they were in 2015.
"We know our operating budget is going to be right at about 98 percent," Boyd said.
Ultimately, commissioners agreed to readdress the issue later after the board hears reports from the entities in question concerning their current operations and funding.