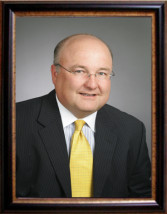 The fourth and final USD 383 Superintendent has been named. Dr. Michael Simpson currently serves as the Superintendent of Schools for Guthrie Public Schools in Guthrie, Oklahoma and has been in that position since 2012.
He has also served as an Assistant Superintendent of Schools for Ponca City Public Schools in Ponca City, Oklahoma (2008-2012).
Prior to that, he was the Director of Athletics and Activities for Stillwater Public Schools in Stillwater, Oklahoma (2000-2008), American History teacher/basketball and golf coach for Blackwell High School in Blackwell, Oklahoma (1996-2000) and American History teacher/basketball coach for Apache High School in Apache, Oklahoma.
Simpson received his Doctorate of Education in Educational Leadership from Oklahoma State University (2010), his Master of Arts in Kinesiology from Sam Houston State University (1993), and his Bachelor of Education from Oklahoma State University (1990).
There will be a Meet and Greet opportunity from 3:45 – 5:15pm at Manhattan High School West Campus at 2100 Poyntz Ave. The public is invited to attend to meet each candidate.
From 4:20 – 4:45pm there will be a presentation by the candidate and time for audience questions/answers  at the Manhattan High School West Little Theater