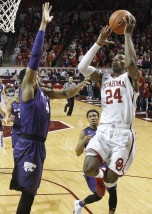 NORMAN, Okla. (AP)– Buddy Hield and No. 2 Oklahoma bounced back from their difficult loss to Kansas with an impressive shooting performance against Kansas State.
Hield scored 31 points to lead the second-ranked Sooners to an 86-76 victory over the Wildcats on Saturday.
Hield followed his 46-point effort in Monday's triple-overtime loss to the top-ranked Jayhawks by making 11 of 14 shots, including 6 of 8 3-pointers.
"Everything I shoot now, I just feel like, is going in," Hield said.
The senior guard has reason to feel that way. He has scored 30 or more points while shooting at least 50 percent from the field in five of the past eight games.
"It's hard to imagine anyone playing more efficiently than Buddy is, in terms of making shots, attacking, making good plays for his teammates," Oklahoma coach Lon Kruger said.
Jordan Woodard scored 19 points for the Sooners (13-1, 2-1 Big 12), and Khadeem Lattin added 10 points, 10 rebounds and six blocks.
The schedule gave Oklahoma enough time to recover from the Kansas loss.
"Interesting week," Kruger said. "I thought if we would have had to play a game on Wednesday, it would have been awfully difficult two days after Monday, which you sometimes have to do."
Kansas State upset Oklahoma in Norman last year, but Oklahoma avoided a repeat by shooting 57 percent from the field.
Barry Brown scored 19 points and Dean Wade added 12 for Kansas State (10-5, 0-3), which shot just 38 percent.
"We struggle with scoring," Kansas State coach Bruce Weber said. "We have to get better at that. … We just have to play with more energy from the get-go, with a little determination. I told them to exert their will. Obviously, Oklahoma's will was a lot stronger than ours."
The Wildcats lost their first two conference games, to West Virginia and Texas, by a combined seven points.
Isaiah Cousins' lob to Hield for a two-handed dunk gave Oklahoma a 22-6 lead with 13:19 to play in the first half. Kansas State made a bit of a run, but Woodard stole the ball and threw long for Hield, who found Ryan Spangler for a layup, and then Hield got a defensive rebound and went coast-to-coast for a layup to put the Sooners up 42-21.
Kansas State scored the final 12 points of the first half, and a 3-pointer by Justin Edwards in the final minute cut Oklahoma's lead to 44-35 at the break. Hield scored 17 points in the first half.
A 3-pointer by Hield and a layup by Spangler put Oklahoma up 53-39 with just under 16 minutes to play. Back-to-back 3s by Hield put the Sooners ahead 63-45 with just under 12 minutes remaining.
Kansas State made one more surge, but a late 7-0 run by Oklahoma, including a 3-pointer and a jumper by Woodard, put the game out of reach.
The early deficit was too much to overcome for a team that struggles offensively.
"After that, we competed with them and played with them, but we just couldn't get over the hump," Weber said. "We had a few chances. … But it didn't happen."