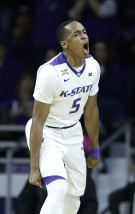 This performance was a long time coming for Kansas State, and it didn't occur a moment too soon.
Desperate for a Big 12 win and treading near the bottom in all of Division I in three-point shooting, K-State exploded from long range Tuesday night in an 83-70 victory over Texas Tech.
"The older guys set the tone, and our younger guys made shots," K-State coach Bruce Weber said. "We executed some things and moved the ball well. It was a good win for our guys."
The Wildcats (11-5, 1-3 Big 12) ended their three-game losing streak thanks to a first-half barrage that saw K-State make as many three-pointers than it had in any full game this season.
Freshmen guards Kamau Stokes and Barry Brown combined to make seven of their first eight attempts. K-State led by as many as 17 points in the first half.
Weber said Brown's hard work over the summer months is starting to yield an improvement in his consistency.
"It took him some time to figure things out, and that affected his consistency," Weber said. "He hit some big shots for us. He'll take some bad shots too, but he can be a game-changer."
The Red Raiders (11-4, 1-3) climbed back in the game by out-rebounding and out-hustling K-State early in the second half, at one point closing the deficit to just five points. Justin Gray, who scored 23 points and made five threes of his own, was a constant threat.
But K-State immediately responded with an 11-0 run, capped by a Brown reverse dunk that brought the Bramlage Coliseum crowd to its feet. Tech never threatened again.
Stokes and Wesley Iwundu led the Wildcats with 17 points apiece, while Brown added 15.
For Iwundu, the performance was a nice bounceback from last week, when he scored just 15 points on 3-of-14 shooting over two games. He also recorded six rebounds and four assists against the Red Raiders.
K-State shot a season-high 56 percent from the floor and went 10-of-19 on three-pointers. Weber said he isn't sure those numbers are sustainable for the long run, but overall improvement should be.
"I don't think we're a great shooting team, but we can be a decent scoring team if we do the little things well," he said.
The Wildcats host No. 17 Iowa State at 3 p.m. Saturday.