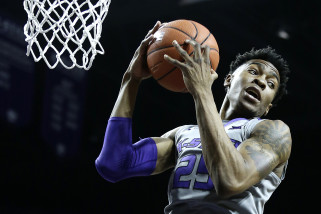 For a team dealt a whole season's worth of heartbreak in the last three weeks alone, Kansas State was an awfully focused basketball team Saturday evening.
The result reflected it.
K-State used a red-hot first half to bury Oklahoma State before coasting to a 89-73 victory at Bramlage Coliseum.
"I couldn't be more pleased for the guys," K-State coach Bruce Weber said. "They competed through some tough losses, but they bounced back. They know there are still a lot of things to play for."
Three days after dropping their second double-overtime game of the season, the Wildcats (12-7, 2-5 Big 12) came out determined to not let another winnable game get away from them.
Freshmen Kamau Stokes and Dean Wade combined to make five three-pointers in the first half as K-State built a 19-point lead. The Wildcats shot a season-high 63 percent in the first 20 minutes, overwhelming an OSU team coming off a win over No. 3 Kansas on Tuesday.
Weber said his team was as good as it has been all season in the first half.
"We were at a magic level," Weber said. "But I don't think we hit crazy shots. We just shared the ball well and got to the paint. It was just good basketball by all of our guys."
It was a redemptive performance for Wade in particular, who has struggled offensively since battling pneumonia in December. He scored 12 points, with ten of those in the first half.
For Stokes, however, it was a continuation of very solid play in his last four games. With his team-high 13 points against the Cowboys, he is averaging 12 per game since Jan. 9, and has connected on 13 of 25 threes.
"We've tried to hold him accountable," Weber said. "As a freshman, he's still learning. In high school, he was a gym rat. He got away from that a little bit.
"But since Christmas break, his parents have made him FaceTime them from the gym to make sure he's there."
Stokes, along with fellow freshman guard Barry Brown, also kept OSU's biggest scoring threat in check on the other end. They frustrated Jawun Evans, who scored just 11 points and battled foul trouble constantly.
"It was a challenge for whoever we put on him," Weber said. "We made him make plays. He's a really impressive freshman, with what he did against Oklahoma and Kansas."
The Cowboys (10-9, 2-5) managed to climb within 13 points in the second half, but could not slow down K-State's offense enough to climb any closer. OSU was led by Tyree Griffin's 18 points.
K-State will face No. 6 West Virginia in Morgantown next Tuesday before hosting Ole Miss in the Big 12-SEC Challenge next weekend.