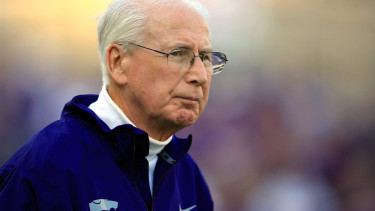 Bill Snyder is not finished as Kansas State's head coach, Hall-of-Famer or not.
The 76-year-old engineer of the greatest turnaround in college football history announced Monday that he plans to return to the sideline for the 2016 season, which will mark his 25th in Manhattan.
In a statement released by the university, Snyder said he wanted to return "as long as I am having a positive impact on the young people in our program, my health is in order and as long as I am wanted by the University and the wonderful Kansas State fan base."
Snyder was inducted into the College Football Hall of Fame last month, becoming the fourth active head coach to receive the honor. He has won 193 games, seven bowls and two Big 12 championships with K-State.
The Wildcats are coming off a 6-7 campaign that ended with a loss to Arkansas in the Liberty Bowl.
K-State opens the 2016 season in Palo Alto, Calif. against Stanford, who won a Pac-12 title and the Rose Bowl this season.