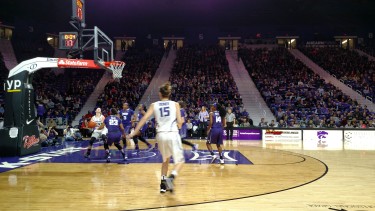 Breanna Lewis scored a game-high 25 points and Kansas State raced out to a significant first half lead before fighting off a late TCU rally in a 58-49 win in Big 12 Women's Basketball action before 7,525 Saturday night at Bramlage Coliseum on Dollar Night.
Lewis was the dominating force in the first half and the Horned Frogs had no answer for her as she scored slightly more points in the second half helping the Wildcats to their second straight conference victory after an 0-4 start which included an 87-73 loss to TCU just 14 days ago in Ft. Worth.
K-State led 27-14 at halftime and led by as much as 33-19 in the third quarter before the Horned Frogs mounted a serious comeback and sliced the lead down to as little as 48-45 with five minutes left in the game. However Lewis took charge scoring layups on back-to-back trips down the floor while her teammates helped out with six free throws allowing the Wildcats to finish the game on a 10-4 run.
Megan Deines added eight points for the Cats while Shaelyn Martin and Kaylee Page tallied seven apiece. A.J. Alix led TCU with 13 points.
Kansas State (12-5, 2-4) will head down I-70 for the first 2015-16 installment of the Sunflower Showdown against rival Kansas on Wednesday at Allen Fieldhouse. Tip-off is set for 7 p.m.