By Randy Peterson, K-State Athletics Communications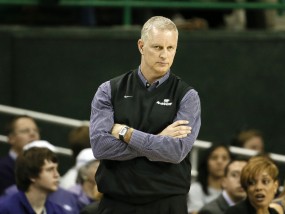 NORMAN, Okla. – With a strong effort in the second and third quarters, Kansas State was able to draw to within four of (17/19) Oklahoma at the Lloyd Noble Center on Sunday, but K-State was unable to overtake the Sooners and snap its losing streak falling, 68-58.
K-State held a 5-4 lead in the early stages of the first quarter, but Oklahoma used a 12-0 run to take control of the opening quarter and lead 22-8 after one.
The Wildcats were 3-of-12 from the field with seven turnovers in the first quarter.
K-State made a charge early in the second period, using a 9-3 run to trail by eight, 25-17, with 4:45 to play. Lewis scored four points during the rally.
Oklahoma reestablished its lead into double figures with a 7-2 run to lead 32-19 with 2:03 remaining.
Erica Young tallied the final three points of the second quarter to bring K-State to within 10 at the half, 32-22.
The Wildcats shot 32.1 percent in the opening half, including 1-of-12 from beyond the arc. The Sooners shot 39.3 percent and 3-of-9 from deep.
Both teams were turnover prone in the first half, with K-State recording 12 and Oklahoma carding 11.
Lewis scored K-State's first six points of the third quarter to pull the Wildcats to within seven, 35-28, with 7:17 to play.
K-State's defense rose to the occasion in the third quarter, holding Oklahoma to one made field goal in the entirety of the quarter. The Wildcats outscored the Sooners 13-9 in the third frame.
Kindred Wesemann drained her second 3-point field goal of the game to bring K-State to within four, 46-42, with 8:18 remaining in the fourth quarter.
Oklahoma increased its lead to nine, 51-42, as Vionise Pierre-Louis tallied five quick points.
Kayla Goth answered with five points of her own to pull K-State back to within four, 51-47, with 5:52 to play. Goth finished the game with a career-high seven points.
The Wildcats were within four following two made free throws from Wesemann, but Oklahoma answered with a 3-pointer from Derica Wyatt with 4:14 to play to build the lead back to seven.
Kaylee Page drained a three-pointer from the far corner to bring K-State to within four, 62-58, with 43 seconds remaining.
The Sooners sealed the win from the free throw line in the final 30 seconds for the final advantage of 68-58.
K-State finished the afternoon shooting 36.8 percent (21-of-57). Oklahoma was held to 34.7 percent (17-of-49).
K-State forced Oklahoma into 25 turnovers, while the Wildcats only had 16.
K-State has made a three-point field goal in 289 straight games. The streak dates back to Feb. 7, 2007.
Lewis tallied her 38th career game with 10 or more points, including 14 games this season. She has eight career games with 20 or more points, including her fifth this season. This was her 48th career game with five or more rebounds and her 14th this season. She blocked three shots, her 47th career game with two or more blocks.
Deines notched her eighth double figure scoring effort at K-State. She pocketed a career-high six steals. This was her third effort with two or more steals this season.
K-State begins a two-game home stand on Wednesday, as the Wildcats host Oklahoma State at 7 p.m.