By Randy Peterson, K-State Athletics Communications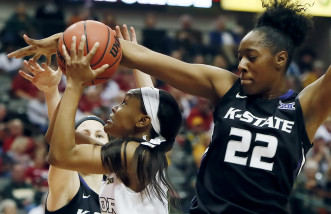 (File Photo)
LAWRENCE, Kan. – Using a double-double effort from junior center Breanna Lewis, Kansas State improved its win streak to three games with a 59-46 win over Kansas on Wednesday night at Allen Fieldhouse. K-State has now won 26 of the last 32 meetings in the series with the Jayhawks.
Lewis set the school record for career games with seven or more blocked shots with her seven blocks on Wednesday. She registered her second double-double of the season with 23 points, 13 rebounds. Shaelyn Martin added eight points and 10 rebounds while Kindred Wesemann chipped in with 13 points and three assists.
Kansas State's defense was locked in during the first quarter, as the Wildcats held the Jayhawks to two points in the opening frame on 1-of-11 shooting. This marked the fewest points allowed by K-State in any quarter this season.
K-State ended the first quarter strong, as Antoinette Taylor banged in a baseline jumper and Kaylee Page beat the buzzer with a deep transition three-pointer.
The Wildcats' defense remained strong in the second quarter, as the Wildcats entered the break with a 27-13 lead.
Kansas narrowed the K-State lead to nine, 20-11, with 3:08 to play in the second quarter. K-State responded with a 9-3 run to end the quarter as Kindred Wesemann registered her second 3-pointer of the game and converted a pair of free throws.
The third quarter belonged to Lewis and Martin, as the duo combined to score all 16 of K-State's points to stake the Wildcats to a 43-29 lead.
Martin registered six straight points for K-State, as she converted a pair of reverse layups.
K-State was 7-of-12 from the floor in the third quarter.
Kansas closed to within 12, as Timeka O'Neal drained her second 3-pointer of the quarter with 5:59 remaining.
K-State responded with a 10-2 run to build its largest lead of the night at 57-37 with 3:05 remaining.
Kansas State shot 46.8 percent (22-of-47) from the field while Kansas was held to 24.1 percent (13-of-54).
K-State outrebounded Kansas, 38-30.
The Wildcats outscored the Jayhawks in the paint, 34-6.
K-State will conclude its two-game road trip on Sunday, as the Wildcats travel to Lubbock, Texas, to face Texas Tech at 2 p.m.