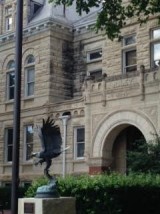 As courthouse security upgrades begin at the Riley County District Courthouse local leaders discussed further details on the implementation of those improvements Thursday in Manhattan's City Hall for their monthly joint City/County/County meeting.
Riley County Police Department Director Brad Schoen told KMAN after the meeting that budget and staffing issues were talked about.
"Things are starting to gel," Schoen said. "The question today was, okay, this is obviously going to impact — or has the potential to impact — the Law Board budget. How are we going to go about doing that? How are going to deal with staffing? How many are we going to need? Who's going to work that out?"
A subgroup of city and county commissioners were formed to do just that and Schoen said the need for security improvements show the growth of the region and how crowded the courthouse can get.
"Manhattan's not the small town it was when I got here in '83 anymore," he said.
Local leaders also looked at renderings of possible upgrades to the Fire Station Headquarters on Kimball and Denison Avenues, where EMS is expected move.