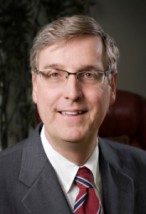 State Representative Tom Phillips (R-Manhattan) filed for re-election to the Kansas House of Representatives in the Secretary of State's office.
"I consider it a true privilege to represent the citizens of the 67th District," Phillips said. "Kansas is facing serious challenges, and I am more dedicated than ever to finding solutions to move our state in a positive direction."
Representative Phillips is Vice Chair of the House Local Government Committee and a member of the Taxation, Children and Seniors, and Energy and Environment Committees.
"Tom is one of the hardest working members in our caucus," said House Majority Leader Jene Vickrey (R-Louisburg). "He is always keeps Manhattan as his main focus when considering policy for the state."
Since being elected in 2012, Representative Phillips indicates he has been committed to working on issues that will provide the citizens of Manhattan and Riley County a better quality of life. He says he is dedicated to enabling local job creation, promoting investment in education, developing strong military relations and ensuring government efficiency.
"I look forward to continuing to provide my constituents with the strong representation they deserve. Together, with local and state leaders, we will make Kansas an even better place to live, work and raise families," said Phillips.
Phillips is the former mayor of Manhattan. He holds two degrees from Kansas State University. He is married to Debra Doubek, M.D. They have two grown sons.