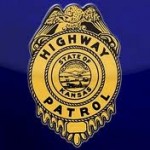 A Manhattan woman was injured in a two vehicle accident on I-70 in Shawnee County Monday afternoon.  Katie Joe Jarvis, 26, was taken to Stormont Vail in Topeka following the accident, on I-70 eastbound, one mile east of Valencia road.
The Kansas Highway Patrol reports Jarvis was driving a 2005 Nissan Sentra eastbound and after changing lanes the vehicle struck the driver side door of a second vehicle. Jarvis' Sentra then veered through the median across opposing traffic lanes, over the embankment, and came to a rest after damaging a fence on the access road below.
Three people from Topeka were in the other vehicle but they were not injured. The accident was reported shortly before four Monday afternoon. Everyone had seat belts or safety restraints on.
Jarvis has since been discharged from the hospital.