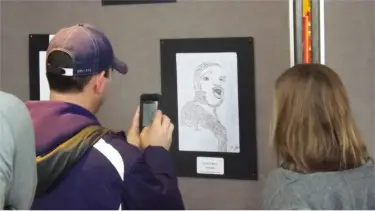 Live music, speakers and art filled the Manhattan Town Center Monday for the 32nd Annual Dr. Martin Luther King Jr. Celebration.
Along with speeches and music, there were also booths representing various non-profit organizations offer volunteer opportunities.
Lynda Bachelor, one of the coordinators of the celebration and a soon-to-be-retired administrator at the Staley School of Leadership Studies at K-State, said serving others was a big part of Dr. King's message.
"It was," Bachelor said. "It's about a beloved community coming together — all kinds of people coming together — to serve side by side."
Bachelor was also in the mall as the director of HandsOn Kansas State, which is a student-led volunteer action center that promotes civic learning and leadership through service and service-learning activities.
One of her students, Garrett Wilkinson, said bringing together volunteer organizations on MLK's birthday was appropriate.
"It was Dr. King that said anybody can be great because anybody can serve," Wilkinson said. "His ideals pertained to community service."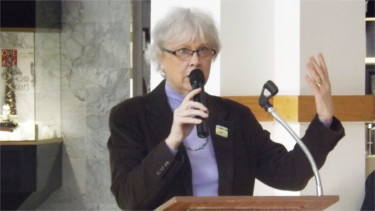 Manhattan Mayor Karen McCulloh also addressed the crowd.
"We need to be a color-blind society," she said. "Let's go on and work together to be a color-blind society."
Bachelor also works on the local MLK committee who sponsors the event and even though she's retiring from K-State after this year, she's assured the committee she's not going anywhere.
"I told them, 'Oh no… I've been with you all too long and the meaning and spirit of Dr. Martin Luther King is in me,'" she said. "So consequently, I'm not giving up. I may not do all the days of service, but I'll definitely volunteer my time."
Those interested in becoming a member of the MLK committee can contact Jim Spencer at 785-537-1496.