It's been an eventful week for Pottawatomie County law enforcement and court officials–and KMAN has several updates on arrests and court appearances.
Two people arrested in connection with aggravated burglary in Wamego Wednesday remain in jail and will come before the court Tuesday if they cannot bond out. Bond for Brian Duzan was set at $25,000 on charges of aggravated burglary, possession of methamphetamine, misdemeanor theft and misdemeanor attempted theft . Another person apprehended in connection with the case, Michelle Larue, has a bond of $10,000. Her charges include burglary, misdemeanor theft, and misdemeanor possession of drug paraphernalia.  KMAN reported on the business burglary Wednesday morning, with Duzan taken into custody at about one p.m. He was caught hiding in the ceiling at All American Garage Doors and Windows at 503 Lincoln where the burglary occurred.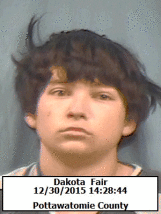 Also this week court dates were set for two people arrested in a shooting last week on Mt. Zion Road in rural St. George. The bond of Melissa Umscheid, 21, of rural Wamego was modified over state's objections from the original $100,000 to $20,000 with electronic monitoring. Umscheid and Dakota Fair, 18, whose bond still is $250,000 remain in jail on attempted murder related charges in the shooting of Tyrel Britton, 23, of Westmoreland. Fair has a bond/hearing/status on January 12th and Umscheid is set for preliminary on January 25th.