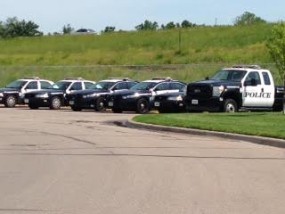 The Riley County Police Department is investigating a report of burglary in the 1000 block of Garden Way in Manhattan which occurred during the day on January 11, 2016. The report was filed on January 11, 2016 at approximately 3:50 PM and consisted of approximately $1,200.00 worth of loss. Officers found that Aaron Whitmore, 22, of Manhattan became the victim in this crime when several items to include a flat panel television, an Xbox 360 and 3 controllers, as well as a smart television, and US currency were removed from his home without his permission. Currently suspect(s) are unknown and officers ask that anyone with information on this crime contact RCPD directly or remain anonymous by using the Manhattan Riley County Crime Stoppers Service. Those using the Crime Stoppers service could also qualify for a cash reward of up to $1,000.00.
###
Officers with the Riley County Police Department responded to a vehicle collision at the intersection of Kimball and College Avenues in Manhattan Monday at approximately 1:40 PM. On scene they found that a 2004 Honda ULX 4 door, driven by Doris Hofman, 88, of Manhattan, struck a 2002 Honda Accord, driven by Thomas Jordan, 25, of Manhattan while in the process of making a turn onto College Avenue.
Hofman was cited for the offense of inattentive driving and was also transported to Via Christi by Riley County EMS for complaint of pain.
###
A collision near the intersection of Willard Place and Anderson Avenue in Manhattan Monday afternoon at about 4:00 led to a citation for the offense of inattentive driving.
Police issued a citation to Mukunda Giri, 44, of Manhattan after police responded to the collision and found that a 2002 Honda Civic, driven by Giri, was traveling west in the 2300 block of Anderson Avenue when it struck a 2004 Saturn Ion, driven by Tina Lee, 51, of Junction City.
Lee was stopped at the entrance to a parking lot anticipating a turn onto Anderson Avenue Lee was transported to Via Christi for complaint of pain by the Riley County EMS.