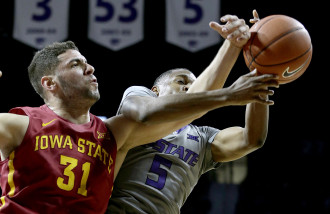 Kansas State hoped its shooting struggles were at an end when the Wildcats shot a season-high 56 percent against Texas Tech earlier this week.
It may have been a flash in the pan, however.
Poor shooting buried K-State in an early 17-point hole that proved to be insurmountable in a 76-63 loss to No. 17 Iowa State Saturday afternoon.
After jumping to an early 6-2 advantage, the Wildcats made just one of their next 15 shots from the field, allowing the short-handed Cyclones to slowly build their big lead.
"I didn't think we were very tough, and we weren't tough finishing around the hoop," K-State coach Bruce Weber said. "Give (ISU coach) Steve (Prohm) credit. He had those guys ready to play, even though they've been short-handed all year."
K-State (11-6, 1-4 Big 12) would heat up late in the first half, closing the period on a 14-7 run. ISU led 32-23 at the break.
Better production around the rim allowed the Wildcats to trim the deficit to five points with 9:45 to play. ISU answered with a 7-0 run of its own, however, and K-State never got within striking distance again.
"We needed to get another stop there, and we didn't," Weber said. "Iowa State made some big shots. We didn't do a very good job with our one-on-one defense."
Justin Edwards led the Wildcats with 19 points, while Barry Brown, who had scored at least 15 in every Big 12 game, was held to just 4 points on 1-of-10 shooting.
Lack of depth didn't appear to be an issue for Iowa State (13-4, 2-3), who used only seven players but still managed to shoot above 50 percent and stay out of foul trouble. The Cyclones were led by Monte Morris' 19 points.
The loss was K-State's first by double digits at Bramlage Coliseum since 2009. The Wildcats return to action next Wednesday at No. 22 Baylor.