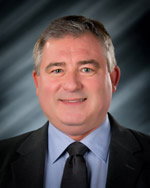 Dr. Marvin Wade is the third of four candidates for Manhattan/Ogden USD 383 Superintendent:
Dr. Wade currently serves as the Superintendent of Marshalltown Community School District in Marshalltown, Iowa (2008 to present).
He has also served as Superintendent of Schools, Associate Superintendent for Instruction and Special Services, and Director of Special Services and Curriculum in Weld Country Re-3J School District in Keenesburg, CO (1995 – 2008).
Prior to that, he was a Principal at Clay Center Community Middle School, Clay Center, KS (1992 – 1995), Special Education Coordinator/School Psychologist, Twin Lakes Educational Cooperative, Clay Center, KS (1990-1992), and a School Psychologist in Salina, KS (1989-1990) and Dodge City, KS (1983-1989).
He received his Doctorate in Education from Kansas State University (1995). He earned his Educational Specialist degree from the University of Northern Colorado (1983) and his Bachelor of Science degree from Colorado State University (1979).
The usual meet and greet for the public will be from 3:45-5:15 p.m. at Manhattan High School West Campus at 2100 Poyntz Avenue. KMAN's Andrew Shores will be visiting with the candidate later Wednesday.