In a month that has been busier than usual, it was only fitting for Superintendent Bob Shannon to declare January as "Schoolboard Recognition Month" at Wednesday evening's USD 383 Board of Education meeting.
"Schoolboards are the very core of democracy," Shannon said.
Shannon's time serving at the "core of democracy" will soon be over. The board officially announced Dr. Marvin Wade has been hired as the next Superintendent of Manhattan-Ogden USD 383. The final vote came after a brief executive session where Wade's contract was signed. Wade's duties will begin on July 1st of this year. The 2-year, $175,000 contract will include health benefits and cover moving expenses. Wade, a K-State graduate with ties to the area, visited the community last week along with three other candidates.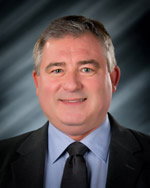 "How a candidate performs in an interview with the board is not the same as how a candidate performs in front of other people," Dave Colburn said.
The district held meet-and-greet sessions with the community after each candidate toured the district, met with school administrators, and interviewed with the board members. Board members were then tasked with gathering critiques and remarks from employees and community members alike, and assured Wednesday night's audience those remarks made a large impact in the final hire.
Board member Aaron Estabrook said the Superintendent search made the board closer as a group, and helped establish their vision for the future.
In other new business, the board approved a bid to BBN Architects, Inc. of Manhattan for $19,400. Maintenance Director Matt Davis introduced the item to the board. The Manhattan High-East cafeteria and kitchen is in need of a new roof. The current roof is out of warranty, and the project is expected to be complete this summer.
Also, Economy Carpentry of Manhattan was awarded a bid in the amount of $22,600 for an upcoming project at Amanda Arnold Elementary that will renovate a current space to be used as an office for the childcare program.
CTE Facilitator Debra Kidd delivered a report to the board on how Manhattan High students are both pursuing higher education and benefiting USD 383. Under Senate Bill 155, students are able to take career and technical education courses tuition-free. Students at MHS are now able to take 4 different college-level courses, and the district will be reimbursed from MATC. Kidd said this amount will be upwards of $50,000, with the first reimbursement being expected in March.