John Broberg, senior administrator of Via Christi Hospital, Manhattan, has announced that he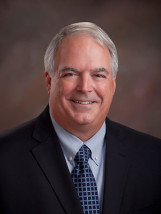 plans to retire after more than four decades of serving in healthcare.
To ensure a smooth transition, Broberg will continue to serve at Via Christi through March while a search for his successor is underway.
Broberg and his wife, Suzie, who retired from Via Christi in December, plan to relocate to the Kansas City area so they can be closer to their children and grandchildren.
"During his leadership career, John has made a tremendous impact within Via Christi, leading improvements in the quality and safety of the care we provide in Manhattan," said Sherry Hausmann, chief hospital administrator for Via Christi Health. "We are thankful for John's excellent service to Via Christi and wish him well as he and Suzie move into the next phase of their lives."
Broberg began his Via Christi career in July 2007 when he became the administrator at Wamego Health Center, which is managed and owned 50 percent by Via Christi and 50 percent by the city of Wamego. In June 2009, he became the administrative leader of Mercy Regional Health Center in Manhattan, which at the time had a similar ownership and management structure as Wamego.
Broberg played a lead role in working with the Memorial Hospital Association to transfer its ownership of Mercy to Via Christi in February 2014, resulting in the medical center returning to full Catholic sponsorship in April 2015 and being renamed Via Christi Hospital.
As part of that agreement, Via Christi, a fully sponsored member of Ascension, invested $15.5 million in capital for the medical center's current renovation project. The project, slated for completion in August, includes expanding the Emergency Department and completing the north tower for outpatient services on College Avenue in Manhattan.
"Due to the incredible leadership of the Board, Medical Staff, hospital leaders and our associates, Via Christi Hospital in Manhattan is financially sound and has improved patient quality and safety," said Broberg. "These improvements would not have been possible without the support of Via Christi or Ascension."