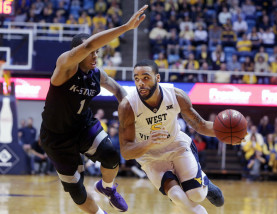 MORGANTOWN, W.Va. (AP) — Jonathan Holton had 14 points and 11 rebounds to lead No. 9 West Virginia to a 70-55 victory over Kansas State on Tuesday night, giving the Mountaineers a sweep of the season series.
It was Holton's second double-double in three games for the Mountaineers (17-3, 6-2 Big 12).
Justin Edwards had 11 points for Kansas State (12-8, 2-6), which cut West Virginia's lead to single digits in the second half just once. Dean Wade had nine points for the Wildcats, who connected on 20 of 57 shots (35.1 percent), and lost to the Mountaineers for the fifth straight time.
West Virginia, which led 34-25 at halftime, picked up consecutive technical fouls in the first half with no time going off the clock.