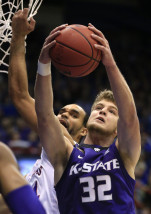 LAWRENCE, Kan. (AP) — Perry Ellis scored 19 points, Svi Mykhailiuk and Devonte Graham added 10 points apiece and No. 7 Kansas pulled away from turnover-prone Kansas State, 77-59 on Wednesday night.
Dominated on the glass all night, the Jayhawks (18-4, 6-3 Big 12) were able to overcome their poor rebounding and some streaky shooting in part by forcing the Wildcats (13-9, 2-7) into 23 turnovers.
Kansas guard Wayne Selden Jr., who had a career-best 33 points in last Saturday's overtime victory against Kentucky, was shut out in the first half before finishing with seven points. Fellow guard Frank Mason III was just 1 of 5 from the field and contributed eight points.
Still, it was enough to give Kansas its 36th consecutive victory at Allen Fieldhouse.
Stephen Hurt had 14 points and 11 rebounds for the Wildcats, who have not won at Kansas since 2006 — three coaches ago. Wesley Iwundu added 15 points but also had six turnovers.
Perhaps it was a Kentucky hangover, or the fact that Kansas State is one of the few Big 12 teams that aren't ranked in the Top 25, but the Jayhawks looked sleepy and disinterested for much of the game.
Eventually, Ellis and Mykhailiuk knocked down 3s to help start a first-half run, and Mason balanced out his balky shot with some hustle that created plays for others. After one hard landing, the guard got up to find the white sleeve covering his right calf and knee soaked through with blood.
Meanwhile, the Wildcats slowly began to lose their composure.
After Mason's basket with 12 seconds to go, Hurt turned the ball over on the inbounds play, sending Kansas State coach Bruce Weber into an uproar. He stormed across the court after one of the officials and appeared to be close to getting a technical foul before assistants reined him in.
He wasn't any happier when Brannen Greene knocked down a 3-pointer and was fouled, converting a rare four-point play with 2 seconds left that gave Kansas a 39-29 lead.
Kansas State trimmed its deficit to 47-45 on a basket by D.J. Johnson with just under 12 minutes to go, but Selden answered with a 3 from the wing and a layup off an alley-oop pass. That kicked off one more big run that allowed the Jayhawks to seize control with about 10 minutes to go.