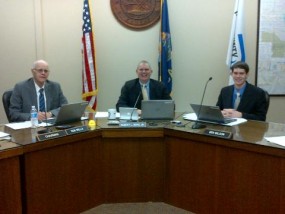 Riley County commission chairman Ben Wilson opted out of signing on to two letters from the board that expresses written disagreement of the state-imposed property tax lid.
Wilson said last week that while he disagreed with the tax lid law as written, he differed from commissioners Ron Wilson and Robert Boyd when it came to the degree of his problems with the law set to take effect January 2018.
Wilson said Thursday that he wasn't willing to sign on to anything that expressed disagreement with the lid "in principle." 
The letters take aim at House Bill 2609 and Senate Bill 316 and address the House Tax Committee. Both bills support to keep the tax lid to various degrees, which would require local entities to basically take approval of the budget out of commissioners hands and to the voter if property tax increases are higher than the rate of inflation — though there's confusion from local governments across the state on how exactly that rate is to be calculated.
Wells and Boyd oppose the tax lid, saying the state has no business regulating local budgets when it can't manage its own.
Critics of the tax lid say the measure is a scapegoat for Topeka lawmakers who passed the latest state tax bill last summer that amounted to the largest tax increase in state history, largely done through a raise of state sales tax.
In other items, county clerk Rich Vargo reported that so far the expenses are tracking as expected. Riley County has budgeted just short of $59 million for FY 2016.
So far $3,437,048.22 has been spent through January. The largest expense has been for Riley County Police Department operations, which has totalled just over $1 million so far.