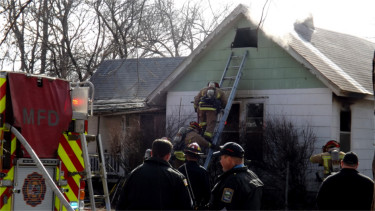 UPDATE: 4:07 p.m.
The Riley County Police Department released more information on Friday morning's house fire in the 600 block of Yuma Street in Manhattan.
The RCPD said emergency crews responded to the 600 block of Yuma Street at approximately 10:48 a.m. Friday after an officer made contact with a community member, a 43-year-old male, who had sustained a significant cut to his arm and was bleeding profusely.
The man was transported to Via Christi Hospital for his injuries.
Immediately after making contact with this subject officers observed smoke coming from the home at 615 Yuma St. The Manhattan Fire Department was dispatched to the structure fire and upon arrival crews found a one story single family residential structure with smoke and fire showing. The fire reached a second alarm before it was contained within 35 minutes. Nine fire apparatus and 25 firefighters responded with the units still on scene assisting with the fire investigation at the time of this press release.
There were no injuries as a result of this fire. The loss estimate for this structure fire is not available at the time of this release, but the house value is listed as $95,000. The owner is listed as I-70 Properties LLC with an address of 314-F Tuttle Creek Place in Manhattan, with the resident agent being listed as Roger Seymour. This fire is being investigated as arson through the cooperation of the Riley County Police Department and the Manhattan Fire Department. At the request of investigators the Office of the State Fire Marshal and Topeka Fire Department were contacted for resources and assistance.
---
Riley County EMS and the Manhattan Fire Department responded to a house fire in the 600 block of Yuma Street in Manhattan Friday around 11 a.m.
When KMAN arrived at the scene the fire had been contained.
RCPD Public Information Officer Matthew Droge told media that emergency officials first responded to a medical call when an officer who happened to be in the area noticed an individual with a severe laceration. While attending to the individual, an involved fire was noticed out of a bedroom of a house at 615 Yuma St.
No one was found in the house at the time of the blaze.
Droge said the fire is being investigated as arson and that it is believed the injured individual is a resident of the house. A press release from the RCPD with more information will be available later today.
RCPD-PIO-Matthew-Droge.mp3