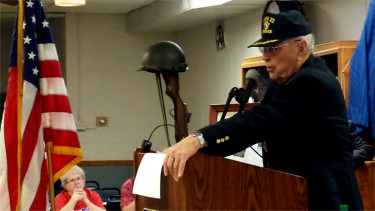 There are many opinions about war.
Most of them are heard from 24-hour cable news pundits and through the campaigns of politicians — especially with a presidential election underway this November.
Saturday morning, opinions on war were heard from those who'd seen it firsthand. And they didn't see just any war. They saw World War II.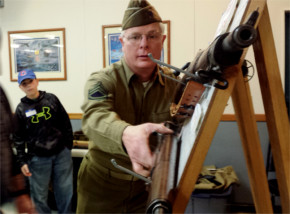 The Kansas Chapter of the Battle of the Bulge reunion met Saturday morning in front of a full house of observers inside the Manhattan American Legion. They remembered the 71st anniversary of the Battle of the Bulge — a battle many historians agree was the final and most crucial victory over Hitler's Germany.
The American Legion also coordinated with the museums of Fort Riley, who brought WWII-era artifacts to display, including weapons, uniforms, radio equipment and more.
This year, Fort Riley brought a door from a jail cell that was once inside the Palace of Justice in Nuremberg, Bavaria, in Germany. It was at the Palace of Justice — one of the few remaining intact structures in Nuremberg following the surrender of Germany — where the International Military Tribunal of captured Nazi officials happened.
Manhattan resident Jim Sharp, who is a veteran of the Battle of the Bulge and the 1st Infantry Division, spoke alongside other Battle of the Bulge vets about what they witnessed overseas in the 1940s.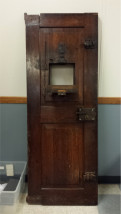 But there's a reason the Nuremberg door was there. He requested it, because in 1945 he was one of the "select" senior security personnel for the tribunals.
"I spent a lot of time there, outside those doors," Sharp said.
Saturday wasn't the first time he'd seen the door. He'd seen it at Fort Riley before when the museum acquired it.
"It did bring a lot of memories back, and it still does, as far as that goes," he recalled. "When these folks were taken to the courtroom we'd search those cells for cyanide pills or knives or other ways they could kill themselves instead of being tried.
"They were on constant watch. Well, we weren't successful, because Hermann Göring at the last minute did commit suicide."
Göring was a prominent leader in the Nazi Party who not only helped Adolf Hitler rise to power, but was the founder of the Gestapo — also known as the "SS" — and Hitler's handpicked successor.
Sharp spoke to the crowd of his time in Nuremberg, and said that as time went on, the people he said he was told were "monsters" eventually turned out to resemble himself in ways.
"They had kids, they had grandkids, they were patriotic and believed what they were fighting for," he said.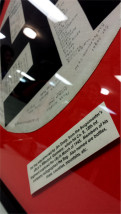 Sharp told the crowd many of the Nazi prisoners told him the Hitler Youth was Germany's version of America's Boy Scouts.
To vastly understate it, what Sharp has witnessed and experienced is immeasurable. And the lesson the 91-year-old learned about his time in war is that it should never happen in a civilized world.
"The lessons are that we should try every way under the sun to negotiate a peace settlement, rather than resort to bombs and tanks and planes against the enemy," he said. "Because they believe in their cause and we believe in ours, so there's got to be some kind of negotiation to take place, before we use the most powerful bombs in the world to destroy us and our civilization."
Sharp said he has a certain reaction when anyone eagerly beats the drums of war.
"Yes, it does frustrate me a great deal," he said. "Because I know those people don't have a son or a daughter in frontline combat. They wouldn't be speaking like that if they had somebody in danger."
It was stated Saturday morning by American Legion leaders how important it was to seek out WWII veterans and listen to their experiences. In Abilene last year, the Kansas Chapter of the Battle of the Bulge reunion had just slightly over 30 veterans present.
Saturday, Sharp said half those veterans are still alive.
"We're getting down to the last days of some of us," he said.