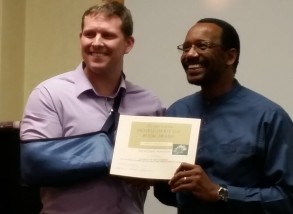 A K-State alum and author received the Jan Garton Prairie Heritage Book Award.
Ian Michael Spurgeon was given the award by Junction City Vice-Mayor, Jim Sands during a recent book talk.
The talk focused on Spurgeon's book Soldiers in the Army of Freedom: The 1st Kansas Colored, The Civil War's First African American Combat Unit.
The award also included a cash prize of $1000.00.