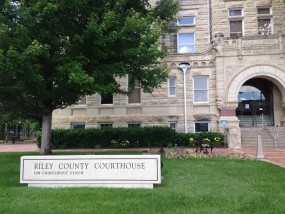 A Manhattan man pleaded no contest to vehicular homicide, aggravated battery and a drug paraphernalia charge in the Riley County Courthouse Tuesday.
A possession of methamphetamine charge was dismissed.
Alongside his legal counsel, Ryan Routson entered his pleas to Judge David Stutzman.
The case began when Routson failed to observe a stop sign at the intersection of Tuttle Creek Blvd and Tuttle Terrace in May of 2014, colliding with a vehicle driven by a pregnant woman.
The woman was 22-weeks pregnant and the baby died as a result of the crash.
Judge Stutzman found Routson guilty of his charges.
Had the case gone to trial, the state notified the court that it would have presented evidence that Routson was traveling at an excessive rate of speed and was in the possession of methamphetamine and a syringe upon his arrest.
Sentencing will take place March 21.