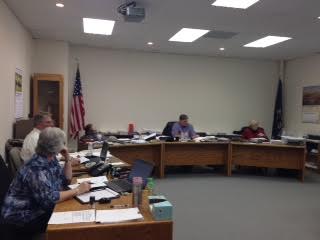 It was a big day for bid openings at the Pottawatomie County Commission meeting Monday. Commissioners and County Administrators were pleased with the bids they received, which were described as "really good prices" by Pottawatomie County Public Works Director Peter Clark.
Clark and his staff will consider the bids more closely Thursday before commissioners take action. Commissioners are holding a special meeting Thursday to vote on the bids due to the President's' Holiday on Monday.
Bayer Construction had the apparent low bid of $2,627,208.95 dollars but Amino Brothers of Kansas City had the shortest time period of seven to eight months to complete the project.
The three bids that were opened by Public Works Director Peter Clark Monday, with ranged from Bayer Construction's to $2,682,692.58 from Amino Brothers–to the highest bid coming from Leavenworth Excavation and Equipment came  at $2,997,379.10.
Commission Chair Dee McKee tells KMAN shifting the layout and location of the access point has been tricky.   McKee says the county is projected to grow by nearly 80 percent between now and 2060 and suggests these projects help the county prepare.
While much of the attention Monday was focused on the opening of bids for the Excel Road Intersection Project, Clark also opened bids for Nelson's Ridge Unit Four. The four bids came from Amino Brothers of Kansas City, J K  Contracting in Junction City, Kolde  in St. Mary's, and Larson construction in Manhattan.
Public hearings were also set for Sunset Ridge and Whispering Meadows, with partial development agreements approved by Commissioners unanimously for Whispering Meadows Unit Four and Sunset Ridge Unit Three.
And the month of January was a success in the Pottawatomie County Deeds Office. County Register of Deeds, Betty Abitz gave an update to Commissioners Monday.
Abitz says 56 deeds came from brand news sales during the month. The month of January saw $34,315 in revenue in the Pottawatomie County Deeds Office.
Abitz also says mortgage debt in the county is just over 11 million dollars. And she says the county has been named as one of three in the state that will see explosive growth between now and 2060.
The Register of Deeds also says the month of January was a great numbers month in the county, with a total of 328 documents coming across her desk.