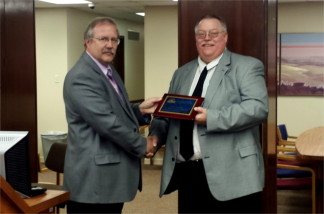 Riley County Emergency Management Director Pat Collins received applause and congratulatory handshakes from county commissioners and supporters during Monday morning's meeting in Manhattan.
Collins was recognized as the 2015 Kansas Emergency Management Association Owen U. Turrentine EM Professional of the Year.
"Congratulations, Pat," commissioner Robert Boyd said. "You have a wonderful reputation."
Collins was presented with a plaque from Garry Berges, the emergency management director for Geary County.
"I couldn't do it without the support of the community and the people I work for and the people I work with," Collins said.
Berges said Collins' work has been a model across the state.
"Pat Collins has been the emergency management director in Riley County for the past 25 years," he said. "Over the years Pat has continued to improve the emergency management program in Riley County and that was evident in June of 2008, when Manhattan was struck by a tornado that damaged some of the city and the K-State campus as well as some of the surrounding area.
"Again in 2015, his knowledge and experience aided Riley County during the May and June flooding event that affected much of the state. Pat not only works with Riley County, but also the regional and state level to reach a common goal of preparedness… he's more than willing to assist other (directors) with all aspects of emergency management."
In other items, Monty Wedel, the county's planning/special projects director, updated the commission on issues dealing with Fort Riley explosives noise and potential future impacts with zoning.
Commissioners expressed concern with maps showing a growing range of noise entering Manhattan and agreed more discussion on matter needs to be had with Fort Riley officials.
Finally, the commission approved the hiring of an additional part time staff person for Emergency Management.
Commissioners jokingly noted Collins' timing for the request, recognizing his award presentation earlier in the meeting.