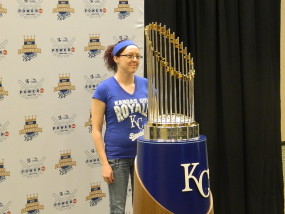 Down in Arizona, the Kansas City Royals have begun Spring Training as they look to defend their World Series crown. And on a very pleasant spring day in Junction City, Royals fans made their way to see the latest stop on the Royals' Trophy Tour, and saw the hardware and perpetual trophy base up close.
"It's the peoples' trophy", said Amanda Turk with the Royals Public Relations office. "They supported the Royals' organization so this is kind of a 'thank you' to them".
According to Turk, the Trophy Tour will take them throughout Kansas and Missouri this week, traveling some 45 hours. When the tour wraps up this Friday, the crew will have logged close to 2800 miles. And the fans have turned out in droves.
"For most places it's (the turnout) been huge. As soon as we're ready to go people start lining up. We want them to see it", she said. As for that very special trophy, Turk said "it's huge and pretty up close".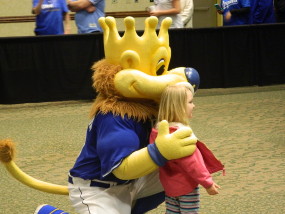 Fans get their photos taken with the trophy, either professionally done for a nominal fee, or with their own devices. Royals mascot Sluggerrr was also on hand, along with Dave Webster, who fans know as "Kaycee" or "the 'W' guy".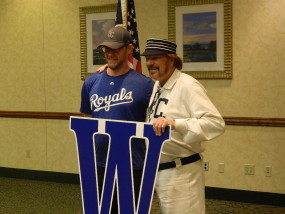 K-State student Miranda Boatwright was one of the fans who visited this stop. "It was exciting", she said after seeing that gorgeous trophy. "It's been 29, 30 years since the last World Series, so it felt good". The Eric Hosmer fan is hopeful that the team can repeat this season. "I think we'll go far", she said.