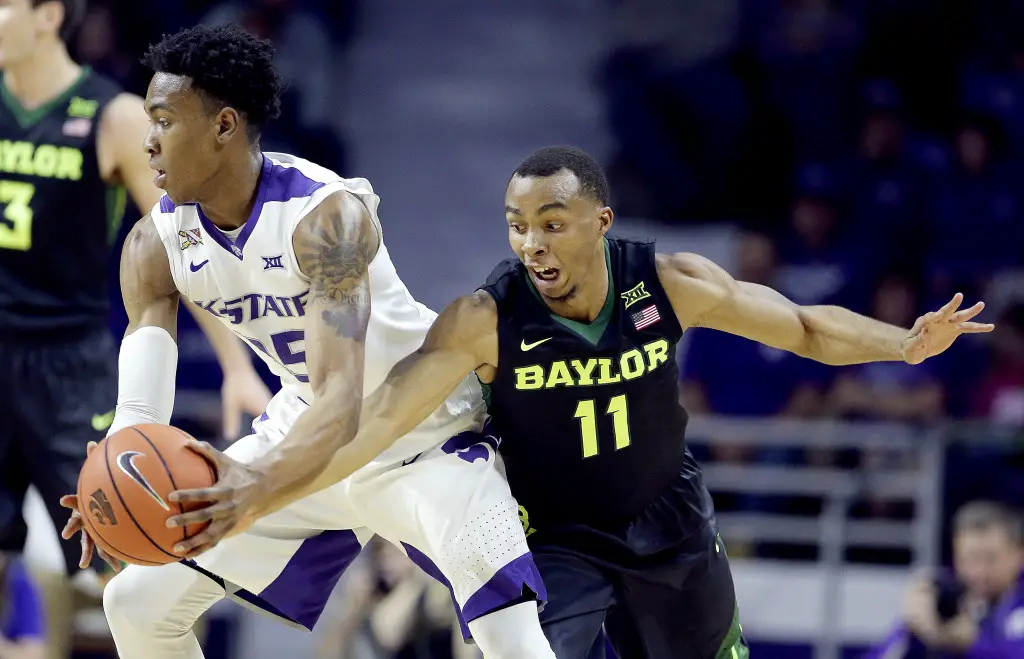 Kansas State hoped its biggest win of the season, over No. 1 Oklahoma last weekend, would be the turning point of its season.
If Wednesday night's performance against No. 21 Baylor was any indication, it was more of a flash in the pan.
The Wildcats were outmatched by the Bears' zone defense from the opening tip in a 82-72 loss at Bramlage Coliseum.
"It was a disappointing performance for our guys," K-State coach Bruce Weber said. "We were on top of the world Saturday night, and I guess we didn't handle it very well."
For the second straight game, a bad start set a tone. This time, K-State could never fully climb out of its hole.
Free throws were the only saving grace for K-State in the first half. Despite shooting 39 percent and 0-of-6 from three-point range, a 14-of-15 performance at the charity stripe kept the game within reach.
The Wildcats (14-10, 3-8 Big 12) got within 29-26 with 4:49 to play before halftime. Baylor outscored K-State 14-6 to close the period, however, and led 43-32 at the break.
"I thought we had an opportunity to make a push right there," Weber said. "But we couldn't ever get the stops we needed. We got in foul trouble and we lost our focus."
The second half saw K-State make a couple more runs, getting within five multiple times, but never closer thanks to finishing 2-of-14 from long range.
Baylor finishing the game 29-of-30 on free throws didn't hurt its cause, either.
D.J. Johnson scored a career-high 19 points and Justin Edwards added 19 as well, but K-State didn't get the complimentary scoring efforts it needed. Freshmen Barry Brown and Dean Wade were held to 13 points combined.
Weber said it was just one of those nights for his team, which has struggled outside the paint for much of the season.
"The other night, everything was going in. Tonight it wasn't," Weber said. "That's why you play the game. You never know what's going to happen. Tonight, we didn't get it done with our shooting."
The Wildcats dominated the glass, out-rebounding Baylor 35-25. The Bears' leading rebounder, Rico Gathers, missed the game with an illness.
But BU's outside shooting advantage more than made up for it. The Bears (18-6, 7-4) hit seven threes in the game, compared to the two from K-State, both of which came with less than a minute left.
Baylor was paced by Al Freeman's 21 points.
The Wildcats will begin a two-game road trip Saturday against Oklahoma State in Stillwater.