The surprise is gone, but the frustration remains. Kansas State found itself on the verge of a big win Monday night, but fell short. Again.
This time, No. 25 Texas was the survivor at Bramlage Coliseum, 71-70.
"I don't have much to say," K-State coach Bruce Weber said. "We had our chances and our guys battled. I feel for our players."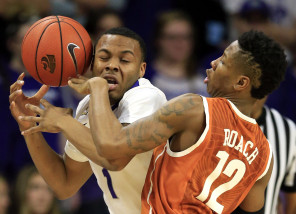 As has been the case regularly this season, poor shooting from outside was K-State's biggest weakness, including at the final buzzer. The Wildcats made just seven shots outside the paint for the night, and Dean Wade's potential game-winner fell short in the final seconds.
Justin Edwards scored 20 points for the first time in his Wildcat career and D.J. Johnson added 16 to lead K-State (15-13, 4-11 Big 12). Most of the game was in the shadow of the rim, and Texas constantly juggled its lineup with foul trouble.
"They got their guards and their bench to lift them up tonight," Weber said. "We did a nice job at getting D.J. the ball, but we didn't hit enough shots."
The Longhorns (18-10, 9-6) led by as many as eight in the second half, before Wade led a comeback that resulted in his team getting within a point with four minutes left.
But similar to last Saturday's loss to Kansas, and many of the team's 11 losses to ranked teams this season, getting stops down the stretch proved to be difficult.
"We got some key (stops) to get us back in the game, but we didn't get the key ones to finish it," Weber said.
Isaiah Taylor led Texas with 19 points and the Longhorns made 16 of 19 free throws, despite entering the game ranked 290th nationally in that category.
K-State hits the road for its next game, a road trip to No. 17 Iowa State on Saturday.