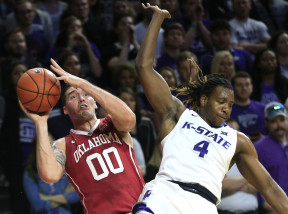 After three minutes, it looked like No. 1 Oklahoma might run Kansas State out of Bramlage Coliseum. The Sooners led, 9-0, and the Wildcats hadn't even attempted a shot.
Not so fast. This is college basketball, after all.
Wesley Iwundu scored 22 points, Dean Wade added 17 in his first game coming off the bench and K-State knocked off the top-ranked Sooners, 80-69 Saturday evening.
"We've had a lot of adversity from our injuries and losing close games, so I'm really proud of our guys," K-State coach Bruce Weber said. "It was a great team win. I told our guys they couldn't just want to win, they had to go out and show it."
After coming up just short in nearly all of their chances against ranked teams this season, the Wildcats (14-9, 3-7 Big 12) chose the best possible time to reverse the trend. Entering the game, K-State was 0-7 against ranked teams this season.
Down its starting point guard and facing the potential national player of the year in Buddy Hield, K-State was thoroughly outmatched on paper.
No one told the Wildcats that.
"I don't think it's a mental block (against ranked teams), we just haven't made the plays to beat those teams," D.J. Johnson said. "But it's a weight off our shoulders to win this one."
Wade hit four of his first five shots, getting K-State back in the game after its poor start. OU struggled to defend the Wildcats the rest of the way.
On the other end, the Sooners (19-3, 7-3) suffered an uncharacteristic shooting performance, making just 6 of 24 three-point attempts. OU entered the game averaging 11.5 made threes per game.
Hield in particular was held to a 3-of-8 effort from long range.
"We really shut them down," Weber said. "We've had some good stretches on defense this season, but we played an entire game of good defense tonight."
K-State held a six-point advantage at halftime, but OU rallied to take a 45-41 lead with 16 minutes to go.
Iwundu, in particular, would not let another potential marquee win slip away. He engineered much of the Wildcats' offense in the second half and hit a go-ahead jumper with 13 minutes left. K-State never trailed again.
"We needed someone to be special," Weber said. "It was a team win, but Wes spearheaded it."
Johnson recorded a pair of tip-in baskets to help maintain the lead down the stretch. He finished with 12 points and eight rebounds.
After the game, K-State fans refrained from storming the court. Instead, Iwundu led his team to the student section.
"We have every reason to hold our heads high," Iwundu said. "We beat the No. 1 team in the country."