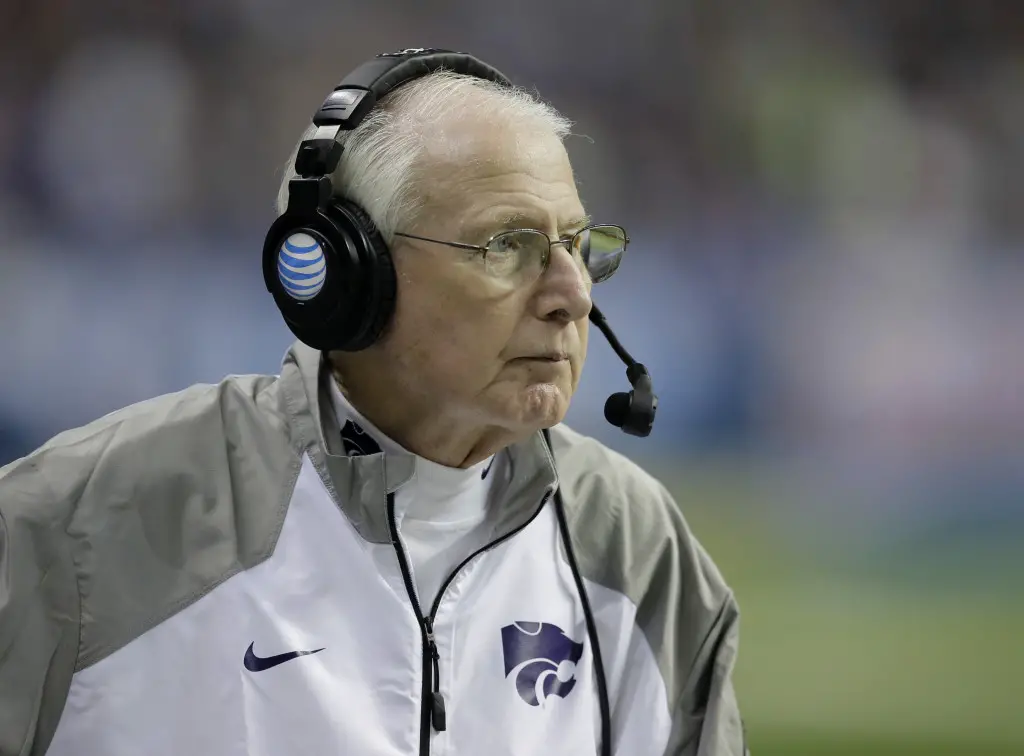 National Signing Day did not yield any significant surprises for Bill Snyder and Kansas State, who announced the addition of 22 players Wednesday afternoon.
After suffering the program's first losing season since 2008, K-State's recruiting slipped in the national rankings of many outlets, landing 76th according to Rivals. The Wildcats ranked ninth in the Big 12, ahead of in-state rival Kansas.
But Snyder believes his staff did a nice job of snagging talented, under-the-radar players, something for which K-State is well known.
"You identify those players by their value system," Snyder said. "I want to see how they treat the people around them. Not just coaches, but the secretaries and the janitors at their school. Once we see that, then we move on to athletic ability."
He also said the Wildcats added size and speed with this recruiting class.
"Speed and range are two things I think we addressed," Snyder said. "By range, I'm talking about the height of certain players at certain positions and their ability to do a number of different things."
The Wildcats added players from ten different states, with Kansas (7) and Texas (5) the most represented.
Four-star quarterback Skylar Thompson, from Independence, MO, is the highest-rated addition. He committed to K-State in May and is one of seven early enrollees.
"He's athletic and a very hard worker," Snyder said. "He will pick things up quickly, I believe. He has a lot of qualities you like in a quarterback."
K-State's class includes three junior college transfers, all at positions of need. In addition, the Wildcats added a fifth-year California transfer in Cedric Dozier, a former four-star recruit who has played cornerback for the Golden Bears since 2013. He will be eligible immediately to play one season in Manhattan.
"Cedric has been a starter in a conference that throws the ball around like we do in this conference," Snyder said. "I value that experience."
Spring practice for the Wildcats, new and old, will begin in April.
K-STATE 2016 RECRUITING CLASS (Signed NLI)
Kyle Ball – 6-2 230 LB – Rivals NR – Prairie Village, KS
Mason Barta – 6-2 205 LB – Rivals ★★ – Holton, KS
Abdul Beecham – 6-4 310 OL – Rivals ★★ – Brenham, TX
Brett Bell – 6-6 225 TE – Rivals NR – Wichita, KS
Tyler Burns – 5-11 200 RB – Rivals NR – Wichita, KS
Cedric Dozier (TR) – 5-10 180 CB – Rivals ★★★★ – Roanoke, AL
Isaiah Harris – 5-10 170 ATH – Rivals ★★ – Fort Worth, TX
Blake Hickey – 6-4 275 OL – Rivals ★★★ – Godley, TX
Trace Kochevar – 6-7 230 TE – Rivals NR – Salina, KS
Nick Lenners – 6-4 240 TE – Rivals ★★★ – Lincoln, NE
Bronson Massie – 6-4 217 DE – Rivals ★★★ – Lufkin, TX
Breontae Matthews (JC) – 6-6 315 OL – Rivals ★★★ – Fullerton, CA
Mike McCoy – 6-2 215 RB – Rivals ★★★ – Topeka, KS
Jimmy McKinney – 6-0 230 LB – Rivals ★★★ – Oologah, OK
AJ Parker – 6-0 170 DB – Rivals ★★ – Bartlesville, OK
Raymond Price (JC) – 6-1 280 DT – Rivals ★★ – Norwalk, CA
Byron Pringle (JC) – 6-2 212 WR – Rivals ★★★ – El Dorado, KS
D.J. Render – 6-0 170 WR – Rivals ★★ – Kennesaw, GA
Jordon Robertson – 6-4 255 DE – Rivals ★★ – Dallas, TX
Ian Rudzik – 6-2 220 LB – Rivals ★★ – Ulysses, KS
Corey Sutton – 6-2 200 WR – Rivals ★★★ – Charlotte, NC
Skylar Thompson – 6-2 193 QB – Rivals ★★★★ – Independence, MO
JC – Junior college transfer    TR – 5th year transfer (California)