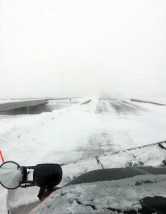 The Kanas Department of Transportation is urging travelers to stay away from the central and western portion of the state, a news release received by KMAN early Tuesday afternoon says.
KDOT said westbound I-70 is closed from Salina to the Colorado border and eastbound I-70 is closed from Hays to the Colorado border. Numerous other highways in northwestern Kansas are also closed, or have recently been closed, including stretches of U.S. 36, U.S. 40, U.S. 27, U.S. 83, K-9, K-161, K-117 and K-25.
Several highways in southwest Kansas are snow packed and icy.
"There is little to no visibility on parts of I-70, and the weather conditions are worse on many highways north of I-70 in western Kansas," said Kansas Department of Transportation District Engineer Jeff Stewart in Norton. "There is also currently no truck parking along I-70 west of Salina."