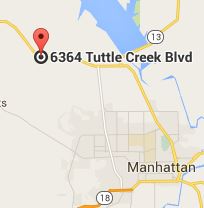 An accident on Highway 24, six miles west of Manhattan Sunday evening sent two people to the hospital and affected traffic in that area for about three hours. Robert Haas, 49, of Manhattan was taken to Stormont Vail in Topeka and Amanda Shepard, 34, also of Manhattan, was taken to the University of Kansas Hospital in Kansas City, following the accident reported at 6:16 p.m.
The Kansas Highway Patrol reports Haas was driving a 2000 Dodge Dakota westbound on US 24, with Shepard driving a 2005 Pontiac Grand Prix eastbound. Haas' vehicle went left of center and the two vehicles collided head-on in the eastbound lane. Haas was not wearing a seatbelt but Shepard was.
Authorities alerted the public through Everbridge to avoid the area due to the accident, with the road reopening shortly after 9:30 p.m.