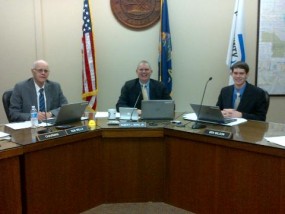 The improper design of an entry way at Tuttle Creek Fire Station, has Riley county officials looking for answers.
Riley County Emergency Management Director and Fire Chief, Pat Collins talked with county commissioners about the issue Thursday.
The south wall of a training room, where the front entry way is located, wasn't designed properly to show as a finished wall.
County commissioners denied a change order in the matter, questioning why B&G consultants is requesting additional funds to fix the problem, when it was the result of poor design.
Another discussion point of a Thursday meeting, Riley County Emergency Management will be updating a 911 recorder.
Collins told commissioners about the decision to update.
By upgrading, the department reduces the number of lines its recording on, leading to lower maintenance costs.
Collins says over $58,000 will be saved over the next 5 years.
The new system will allow for text message and trunk radio recordings.
A reminder was issued for all, it's time to file personal property statements.
Riley County Appraiser Greg McHenry told commissioners for those who own a mobile home or ATV, the deadline to file 2016 Personal Property Statements is rapidly approaching.
Owners of taxable personal property, like business equipment,watercrafts, golf carts, and trailers have until March 15th to make their filing with the Riley County appraisers office.
1,800 postcards have mailed  to property owners who haven't yet filed.
As of March 1st, 55% of approximately 4,200 filings have been made.
A warm winter has helped move a Riley County department ahead of its normal schedule.
Noxious Weed Director Dennis Peterson spoke with commissioners Thursday, telling them because the winter months have been so mild, his department has had time to catch up on other projects.
The department's been able to complete brush and tree trimming around the county, and spring equipment maintenance.
Now that the calendars flipped to March, preparations are underway to begin seeding projects and spraying for weeds.
Spraying and seeding will begin by the middle of the month.