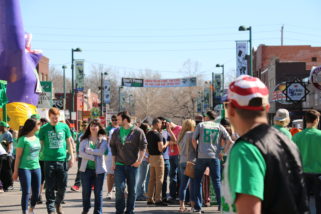 This year's Fake Patty's Day was real busy for Riley County police and EMS personnel.
Riley County EMS Director Larry Couchman told Riley County commissioners Monday morning that warm, sunny weather and no conflicting events in town — perhaps other than the state presidential caucus — resulted in a big turnout for Manhattan's annual fake holiday Saturday.
"It was a very busy Fake Patty's Day," he said. "I would say it was actually a busier year for us — which is a trend we've been seeing the last couple years."
Couchman said EMS crews saw 139 patients for the 36-hour window singled out for Fake Patty's with 38 of those patients listed as related to the event. That's up from 36 Fake Patty's patients from last year.
There were just 18 in 2013.
Overall, Couchman's report tallied 48 EMS calls related to the event this year.
Notable incidents included a 21-year-old male who was flown to Wichita Saturday night after he suffered a critical head injury after jumping from an elevated surfaced and landing face-first in concrete at a house party, an individual who lost a part of a finger after it was slammed into a door at a bar, a gunshot wound at a house party — though Couchman said an investigation continues to find out whether or not it was a Fake Patty's Day-related incident — and officials had to use a truck ladder to get some college students down from a roof they'd climbed by way of power lines and the power mast attached to the house.
"Not for sure what their major was," Couchman said, "but we're very fortunate we didn't have a tragic incident."
Couchman said the event — which he describes as one where binge-drinking is the main activity — continues to increase in intensity. He compared it to another local alcohol-related event, Country Stampede, which is a five-day country music festival by Tuttle Creek Lake in the summer.
"Just looking on the ER side, I had nine ambulance transports out of that five-day event compared to 18 transports in this 36-hour event," he said.
Fake Patty's Day brings many visitors to Manhattan, Couchman said. EMS saw patients from as far as San Francisco, Calif.; Dallas, Texas; and the Kansas City area.
He also said there was an increase in the number of injuries related to fights or falls and that due to the number of intoxicated patients, a four-bed unit was required to be opened up outside the department.
Although he and Riley County Police Department Capt. Josh Kyle noted marijuana use, Couchman told commissioners he was pleased there were "no significant drug-related issues."
Couchman said rooftop incidents were down, and credited county and city officials for keeping the community aware this year on the discouragement of them.