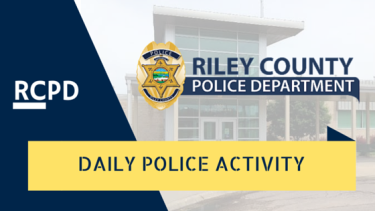 Officers with the Riley County Police Department filed a report for and are now investigating a report of criminal damage to property in the 500 block of N. 14th Street in Manhattan. The report was filed on March 7, 2016 at approximately 10:00 AM after an incident that is likely to have occurred the night prior. Police found that two separate vehicles one owned by Jessica Morrison, 21 and the other owned by April Garner, 23, both of Manhattan sustained damage consistent with that of a BB or pellet gun. This damage was located on the back window, trunk, and hood which equated to approximately $1,000.00 in damage. At the time of this report suspect(s) were unknown and officers are asking for information through the use of the Manhattan Riley County Crime Stoppers.
---
RCPD filed a report for aggravated battery in the 700 block of N. 12th Street in Manhattan on March 7, 2016 at approximately 11:00 AM for an incident that occurred on March 6, 2016 at approximately 2:00 AM. Police listed Katharine Sicard, 25, of Manhattan as the victim of this crime after being involved in a physical altercation against a group of others. Sicard was battered resulting in injury. Officers are investigating the matter, however, at the time of this report no arrests had been made or citations issued.
---
The Riley County Police Department responded to the 11000 block of Rimrock Drive in Northern Riley County on March 7, 2016 at approximately 7:00 AM for a report of a death. Officers on scene found that Joye Gordon, 50, of Manhattan was deceased and a report for unattended death was filed. The investigation into this death is ongoing, however, currently police have no evidence to support foul play. An autopsy has been scheduled as part of this investigation. At the time of this report no further information was available.