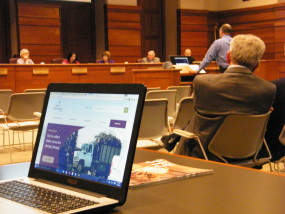 Manhattan's City Commission work session was filled with updates, Tuesday night.
The commission learned of Fake Patty's call numbers and noise complaints, as they received a quarterly update from the Riley County Police Department.
A total of 361 calls were made to police during the binge drinking holiday, that saw multiple injuries and numerous intoxication induced arrests.
That number ranking as the highest volume of calls seen since 2013 and rising from 300 received last year.
During the session, commissioners also engaged in discussion about the city's five-year strategic plan for bicycling.
Infrastructure Analyst, Jared Tremblay fostered the narrative, that focused largely on safety efforts and talk of bike paths.