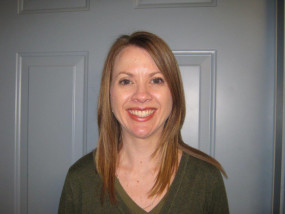 The below comes to KMAN courtesy of a USD 383 press release. 
Melanie Koehn, USD 383 Adult Learning Center teacher, was named The Commission on Adult Basic Education (COABE) Outstanding Teacher of the Year runner-up for 2016.
Melanie received her Bachelor of Science from Kansas State University, with a major in marketing and a minor in Spanish, in 2002.
Marrying and moving to Western Kansas; her husband worked as a game warden and Melanie worked as a Spanish Teacher and Librarian at the junior high school.
She began her teaching certification at Fort Hays State University in 2007.
She served in a variety of jobs from 2007-2009 at which time she began working with the Adult Learning Center in Manhattan, Kansas and received her adult education professional certification in 2010 from the Kansas Adult Education Professional Standards Committee.
She started as a teaching assistant and moved to successfully teaching English as a second language, technology, and computer applications to adult basic and adult secondary education students and ESL.
She has served at the state level on professional development committees for the past year, district level on school improvement and professional development committees for the past three years, and on school advisory committees.
She is also actively involved in professional learning communities with various departments.
Melanie has continued that school involvement into the community as the district's outreach representative and not only participated in community organized homeless outreach for the past three years, but also served on the chamber of commerce and their new business committees.
She has facilitated professional learning communities designed to increase student retention,data disaggregation aimed at improving student learning and standards unpacking and alignment with curriculum and assessment.
Melanie also was part of reviewing and selecting appropriate curriculums across departments for the Adult Learning Center and organized and facilitated the strategic planning committee inviting several areas' organizations and businesses to participate.
Melanie provides a non-threatening, supportive atmosphere for learning, which fosters freedom of thought and expression.
The mission of COABE is to inspire educators so adults succeed and communities thrive.
COABE exists to provide leadership, communication, professional development and advocacy for adult education and literacy practitioners in order to advance quality services for all adult learners.