Vacant space in a county-owned building could be used to aid Pawnee Mental Health Services.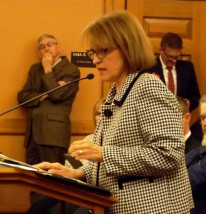 Robbin Cole, Pawnee's executive director, pitched the idea to Riley County commissioners Monday morning. Cole said vacant space in the lower level of the Riley County Family and Child Resource Center at 2101 Claflin Rd. could be used to either relocate the group's child services office or create a new crisis response center.
"Usually I come before you about four times a year-ish," Cole told commissioners. "But it seems like lately it's been a little more often than that."
Cole said she recently toured the space at the building that used to be the Wharton Manor Nursing Home with Pawnee colleagues and said while some renovations may be required, the space is favorable for either plan.
"We all know there has been discussion recently about an immediate or a short-term kind of a need for a some kind of a regional crisis facility," she said. "The situation at Osawatomie State Hospital and the reduced availability of in-patient psychiatric beds has created problems for us in our community and the surrounding communities both for law enforcement and for hospital emergency rooms."
Commissioners weren't opposed to the proposal.
"I agree," Commissioner Robert Boyd said. "I think this is appropriate. We have facilities that are available. We don't know what the costs are, etcetera, but I'd like to see if we couldn't put a group together to study this."
Commissioner Ron Wells was appointed as representative to such a board.
Boyd said the first focus should be to decide which plan — a relocation of of the child services office or a new crisis response center — is the most optimal.
"We need to discuss which one is of the most need, and which one fits the best with the facility." he said.