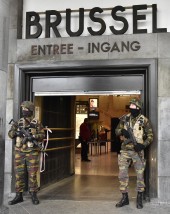 WASHINGTON (AP) The United States says some government personnel in Brussels are unaccounted for since the deadly airport and subway attacks.
State Department spokesman Mark Toner says the U.S. is still seeking to locate all its officials serving at the American missions to Belgium, the European Union and NATO, and their family members.
Toner says some still haven't been reached, without providing an exact number. He noted that Belgium hasn't released the identities or nationalities of those killed or in Tuesday's bombings, or injured and hospitalized.
At least 34 people were killed and more than 200 wounded in the attacks.
The U.S. says it has no information about any Americans killed. About a dozen Americans are known to be injured.