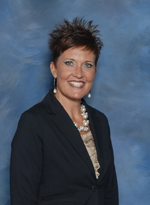 Lacee Sell has been named the Executive Director of Teaching and Learning for Manhattan-Ogden USD 383. Sell currently serves as the Superintendent of USD 473 in Chapman, KS. She has served in that position since 2011. Prior to that, she was Superintendent of Schools for Clinton County School District in Plattsburg, MO.
She has also served as an assistant superintendent, principal and assistant principal for Oak Grove School District in Oak Grove, MO.
She started her career as a special education teacher and coach in DeSoto and Prairie Village, KS. She has a B.S. in Education (K-12 SPED and K-12 PE) from Emporia State University, a M.S. in Educational Administration from Emporia State University and an Educational Specialist Certification from the University of Central Missouri.
She is currently working on a Doctor of Education in Educational Leadership from Kansas State University.
"I am very thankful for this opportunity to work with Teaching & Learning, my true passions," states Sell.
"Knowing of the district's academic excellence I look forward to getting started and becoming part of the Manhattan-Odgen School District.  I can't wait to begin serving in this role and learning all I can right away."
"We are pleased to have Lacee Sell joining the Manhattan-Ogden team beginning in July as the next Executive Director for Teaching and Learning," states Superintendent Dr. Bob Shannon.
"Lacee brings to us considerable experience with K-12 school curriculum and leadership.
Her knowledge and skills will benefit Department of Teaching and Learning support for students and staff throughout the school district."
Sell will begin her new position on July 1, 2016. She replaces Executive Director of Teaching and Learning Carol Adams who is retiring.