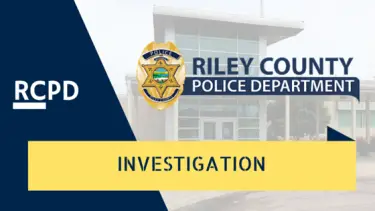 As previously reported by KMAN, Riley County Police made a high bond aggravated kidnapping arrest over the weekend. 
Police in Riley County issued a public warning on March 25, 2016 regarding a potentially dangerous suspect at-large following an incident on March 24 at approximately 11:30 p.m.
This incident involved a woman who sustained significant non-life threatening injuries after being dragged by her vehicle for approximately 800 feet while attempting to flee an attacker who was not known to her.
Officers found that this female victim was approached by an unknown hispanic male while she attempted to start her car in the 500 block of Richards Drive.
This male suspect entered her vehicle and attempted to drive off with her inside.
At this time the 19-year-old victim attempted to flee, however, was unable to completely exit through the passenger side door and fell to the ground while a portion of her body was still inside.
The suspect fled the scene and law enforcement later recovered the vehicle.
On March 26  detectives with the Riley County Police Department Investigations Division identified the suspect and with the assistance of the Wichita Police Department was able to locate and arrest Sergio Guerra, 38, of Wichita, Kansas.
Guerra was arrested on the offenses of aggravated kidnapping, aggravated robbery, and aggravated battery.
He was given a bond of $500,000.00 and at the time of this report was confined at the Riley County Jail.
Detectives were able to determine that Guerra, who had no known personal ties to the community, had been in Manhattan temporarily prior to leaving the area shortly after this incident occurred.
The Riley County Police Department would like to thank the Wichita Police Department for their assistance in apprehending this suspect.