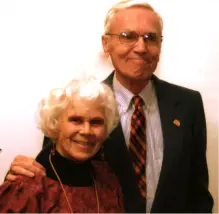 On Monday night, the Greater Manhattan Community Foundation announced a transforming gift during their Annual Meeting at the Manhattan Conference Center.  Jodi Kaus, Board Chair, shared with the nearly 500 attendees that in December, the foundation received more than $6 Million dollars from the estate of Lincoln and Dorothy Deihl, which is the first installment of what will potentially be over $11 Million dollars.
Kaus, said "This was a gift that resulted from a relationship the Deihl had with the Community Foundation since 2008."  She added, "The Deihl's established two funds with the community foundation; a Designated Fund that supported the Beach Museum of Art, and a Donor Advised Fund that they used to support community charitable causes."
The estate gift will be added to the Lincoln and Dorothy Deihl Advised Fund, and will support their designated interests of; the arts, youth and basic human needs in our community.
Vern Henricks, President & CEO of the Greater Manhattan Community Foundation, said "When finalized, this will be the largest cash gift received in the history of the Community Foundation and will support the largest grant program administered by the Greater Manhattan Community Foundation—expected to provide nearly $500,000 a year beginning 2017."
For more information about this gift, please contact Elaine Dhuyvetter, Vice President of Marketing & Programs, at elained@mcfks.org or by calling the Greater Manhattan Community Foundation at 785.587.8995.
BACKGROUND INFORMATION
Lincoln and Dorothy Deihl moved to Manhattan in 1979 after teaching many years abroad.  They called K-State their professional home.
As newly minted Ph.D.'s from The Ohio State University, he in business administration and she in anatomy and physiology, they married in 1954 and in 1955 they had traveled to Turkey to teach at Robert College in Istanbul.  This began a series of posts in the Middle East and Africa, including five years at the American University in Cairo, Egypt, two years at Pahlavi University in Shiraz, Iran, two years in Ethiopia at Haile Selassie University, four years in Nigeria and one year in Kathmandu, Nepal on a Fulbright Scholarship.
Lincoln help develop MBA programs and Business Administration departments for local universities, as well as teaching MBA students, in all of those places.  Dorothy found local contracts when she could and took courses in Arabic studies, Egyptology, and local cultural characteristics.
Dorothy Deihl: April 29, 1923 – December 25, 2010
Lincoln Deihl: November 30, 1927 – September 6, 2015