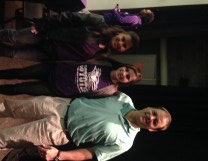 Manhattan High's Tarrah Bammes put pen to paper Tuesday at MHS and signed to play college basketball at Kansas Wesleyan.
Bammes was a part of the Indians' 14-8 season that ended in a substate final loss to Derby. She was a starter as a senior and averaged almost five points per game.
Bammes contacted Barton Community College as well, but ultimately felt at home with the Coyotes.