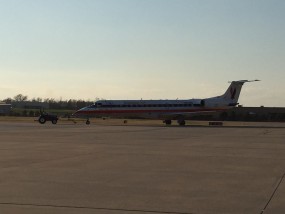 Area fire and medical response crews responded to the Manhattan Regional Airport shortly before five p.m. Thursday after an emergency alert went out regarding a potential incident at the airport.
Airport Director Jesse Romo indicates an American Airlines flight was inbound for landing and had a warning light come on for a possible hydraulic failure.  Several fire engines and medical response vehicles arrived prior to the landing to assist.
The aircraft arrived and landed safely at the Manhattan Regional Airport at approximately 5:15 PM.  For precautionary reasons, the aircraft was towed to the parking apron near the terminal where passengers safely deplaned.