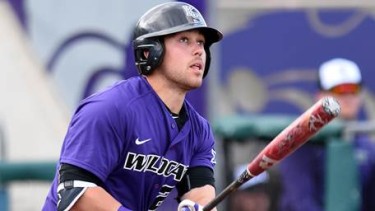 K-State came back from a five-run deficit midway through Wednesday's game, but six unanswered runs after the eighth inning by Oral Roberts dealt the Wildcats a 14-10 loss in 11 innings at Tointon Family Stadium.
The Wildcats (12-14) used part of their 20 hits, their most in a game since 2014, to score five runs in the sixth and two in the seventh to pass the Golden Eagles (14-10) and build a 10-8 lead. However, in the ninth, Oral Roberts scored two runs off Lucas Benenati and then added four runs in the 11th to hand K-State its eighth loss over the last nine games.
"That was rough," said K-State head coach Brad Hill. "It was a great comeback by us. We pitched awful today, to put it bluntly. We hit well enough to win the game. We needed the bigger hits in there at the end, and we could not get them."
The loss snapped K-State's 32-game winning streak when leading after eight innings.
Oral Roberts scored its first eight runs over the first five innings, including two in each of the first and second off starting pitcher Jacob Ruder. The Golden Eagles, who had 16 hits to K-State's 20 as well as nine walks, later added three runs in the fourth off Brandon Erickson and then tagged Mitch Zubradt with one in the fifth.
The K-State pitching staff turned it around, though, with no runs from the sixth through eighth as the offense took over on the other side. Zubradt, in his second inning of work, followed by Colton Kalmus and Cory Wright retired 10 straight from the final out in the fifth through the eighth.
Every K-State starting position player had a hit in the game, led by Jake Scudder and his career-high five. The junior had three singles, a double and a second-inning home run – his second of the season – to make up the most hits by a Wildcat since Tanner Witt had five against Nebraska on April 2, 2013.
Clayton Dalrymple (2-for-6), Jake Wodtke (3-for-6), Josh Rolette (2-for-6), Tyler Moore (2-for-7), Steve Serratore (2-for-6) and Danny Krause (2-for-4) all followed Scudder's lead with a multi-hit game. Krause also drew two walks to help him reach base safely four times for the second straight game.
Of K-State's 20 hits, 16 were singles as Scudder's double and home run along with Krause's double in the seventh and Rolette's home run in the first were the only the extra-base hits for the Wildcats. Rolette's homer in the first, his second over the last five games, evened the game at 2-2 while Krause's two-base hit helped set up the go-ahead runs in the seventh.
Despite blowing its first save since April 26, 2014, K-State was able to put the potential game-winning run in scoring position in the ninth and 10th inning. After stranding two runners in the ninth, K-State had the possible game-ending run thrown out at home when Oral Roberts' left fielder Michael Huntgate, who originally entered the game as a pinch runner in the ninth, threw to catcher Matt Whatley who applied the tag on Krause at home. Krause was attempting to score from second after Dalrymple pulled a single into left field.
"Clayton (Dalrymple) hit it hard. He might have hit it too hard. (Huntgate) made a heck of a throw and (Whatley) made a great play," said Hill.
After Oral Roberts built an 8-3 lead over the first five innings with the help of 10 hits and six walks, K-State rallied with a five-run sixth. A pair of wild pitches and a sacrifice fly by Dalrymple plated the first three runs before K-State went on to add two more with two-out singles by Moore and Serratore.
The Wildcats then grabbed their first and only lead in the seventh when Dalrymple drove in Scudder with a groundout and Wodtke's squeeze attempt resulted in a run as Krause beat the tag at home.
K-State, which left a season-high 15 on base, stranded two runners in each of the eighth, ninth and 10th inning. In the eighth, holding onto a 10-8 lead, a two-out single by Scudder followed by a wild pitch and walk drawn by Krause put runners on first and second for Michael Smith. The freshman, however, struck out to end the inning. In the ninth, after Oral Roberts tied the game at 10-all, back-to-back singles by Wodtke and Rolette put runners at first and second with one out. Golden Eagles' righty Brady Womacks slowed down the Wildcats, though, by striking out Moore and inducing a groundout to first base by Serratore.
In the 11th, Huntgate, after making the game-saving throw in the 10th, started the four-run frame with a double off Corey Fischer, who suffered his second loss of the season. Later, RBI base hits by Sam Grellner and Trevin Sonnier plated the first two runs before an RBI fielder's choice by Chase Stafford and bases-loaded hit by pitch by Nick Roark capped the scoring.
Womacks, despite allowing four hits, earned the win – his second – after holding the Wildcats scoreless over two innings. He also walked two and struck out one.
K-State now heads to Lubbock, Texas for a three-game Big 12 series against Texas Tech (17-8, 5-1 Big 12). It will be the Wildcats' first true road series since Opening Weekend at UC Riverside.