TOPEKA — Republican Gov. Sam Brownback has cut higher education spending by $17 million in response to a shortfall in tax collections for February.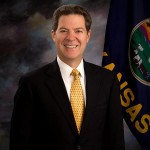 Brownback announced Tuesday that he ordered a 3 percent cut in the higher education system's allocation of state tax dollars under this fiscal year's budget. The Board of Regents and state universities will have to make the adjustments over the next four months.
The governor acted after the Department of Revenue reported that the state collected $54 million less in taxes than anticipated in February.
The state must now act to prevent a deficit on June 30. Brownback's action would not fully balance the budget.
The department said the state collected $303 million in taxes last month instead of the $357 million projected in a November fiscal forecast.
In a press release from the governor's office, Brownback took no blame.
"This is an economic problem, not a tax policy problem," he said. "Our tax policy has been instrumental in creating more than 80,000 jobs since we took office and has resulted in a record number of Kansans working.
"These numbers reflect a declining national and regional economy. There has not been a single year of national GDP growth above 2.5 percent since 2006, and in the final quarter of 2015 the U.S. economy grew less than 1 percent. Across the Midwest, states are being affected by falling commodity prices, contracting sales growth and declining agricultural exports."
But that's not entirely true across the region. GDP growth exceeds Kansas in Colorado, Nebraska, Iowa and Missouri. 
"In balancing the budget, I will not support or call for a tax increase on small business in Kansas," Brownback continued. "My focus is on managing spending, not on raising taxes. Our goal is not to fund the growth of state government; it is to help the Kansas economy grow.
"There are difficult decisions to be made and we will be working with the Legislature over the next few weeks to address these spending issues. In the meantime, I have notified the Regents of a 3 percent, or approximately $17 million, allotment for Kansas universities in the current year."