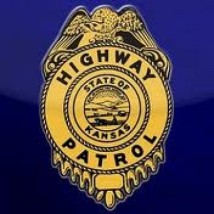 The official Kansas Motor Vehicle Accident Report has been released regarding a February 13th accident at the intersection of Marlatt Avenue and Tuttle Creek Boulevard which led to the death of Jenna Lindsten, 30 of Manhattan. As KMAN previously reported, Lindsten's vehicle was struck by a semi truck driven by Ethan Butts, 21, also of Manhattan. A third vehicle was struck as Lindsten's 2014 Chevrolet Captiva Sport spun into northbound lanes.
The report from the Kansas Highway Patrol has statements from five witnesses including Butts, the driver of the third vehicle, and three others in the vicinity at the time the accident occurred. Butts indicated he was coming down the hill on 24 and was about to the intersection when the light changed to yellow and he "proceeded to apply brakes." He adds he was already in the intersection by the time he saw Lindsten's car and it was"coming full speed." Butts also talks about swerving to the left but then hitting the car.
The driver of the third vehicle, Quinton Huncovsky, 42, of Manhattan says he was sitting at the red light while heading north on TCB and was looking down at his radio when he heard tires and looked up to see the semi hit the car, with the car then coming toward him. He drove forward to get out of the way but the car still hit his pickup.
Other witness statements indicated the semi ran the red light, but that Lindsten didn't appear to see the semi as she was heading east on Marlatt Avenue. One witness traveling south reported the semi was in front of her and while the light was red the semi did not appear to slow down, and the witness did not recall seeing brake lights until the vehicles met.
A summation from KHP says Lindsten's vehicle continued eastbound through the intersection with a green traffic light but that against a red light the semi continued south on U-S 24 through the intersection, striking Lindsten's car, T-boning it on the driver's side.
Results are still pending on a blood sample from Butts. A driver/vehicle examination report of the 1997 Kenworth Semi Truck showed "key violations" including the brakes found to be "OUT OF SERVICE," which the report says means the number of defective brakes is equal to or greater than 20 percent of the service brakes on the vehicle or combination of vehicles.